[:nl]Voor mijn aprs projectje was ik op zoek naar een tnc (tnc staat voor Terminal Node Controller) die mijn zender (vermoeddelijk een porto) kan inschakelen. Deze tnc vond ik in Amerika. Na een vlotte levering ben ik afgelopen zaterdag (07-02-2015) begonnen aan mijn eerste kitprojectje. Of terwijl een lege printplaat (met 1 smd chip al reeds geplaatst) en een heleboel componentjes.
Het was de eerste keer dat ik een printje van niets opgebouwd heb. Wel had ik al eens eerder wat printjes hersteld. Maar nog nooit op deze manier.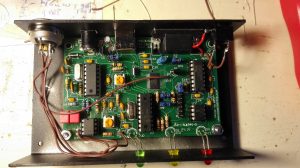 En ik ben best tevreden met het resultaat. De eerste twee testen zijn gelukt. De tnc start op en hij kan correct audio ontvangen. Dus dat gaat goed. Nu moet ik alleen nog even gaan testen of hij ook de zender kan inschakelen. Daarna kan ik verder met mijn aprs-setup.
Wordt dus vervolgd![:]